Post Date:
October 16, 2021
---
Admin
Why You Should Consider A School Franchise
The education sector is solemnly based on moral values and contributes to the overall growth of a country. Thus, when you aim to build a learning institute that has a robust and innovative core, you need the right consultancy and assistance in the initial investment.
School Franchise Opportunities
Podar International School is amongst India's leading and most reputed educational institutions that bring to you great school franchise business opportunities with a proven systematic approach towards academic excellence. Providing you extensive ongoing support and specialized child-centric ICSE Curriculum and CBSE Curriculum, our School Franchise business model will prove our passion for bestowing quality education.
What makes Podar Smarter Schools the Best Public School Franchise in India is its distinct infrastructure, facilities, amenities, affiliation, and financial business model. Keeping the same advancement in mind, Podar Smarter School helps you start a quality-driven school that is committed to nurturing young learners holistically. In this way, we do not only help you establish competent and dedicated faculty with adequate and continuous professional development but also bring you goodwill and recognition from the local as well as the global audience as the franchise business opportunities.
Adhering to the fact that school franchise business opportunity is an excellent probability for rapid expansion without an enormous outlay of capital compared to a new business base which may take years to break through.
Here are the top Five Reasons Why You Should Choose Podar Smarter School, the Best School Franchise in India!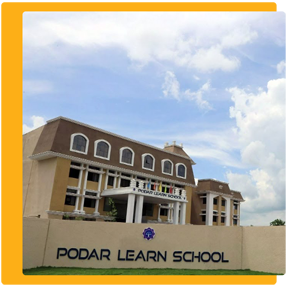 Strong Brand Image
Ongoing Service Support
Great Return On Investment
Training Programs
Track Record Of Success
School Franchise Opportunities in India
With multiple Podar Smarter School Branches sprawl across pan India, our well-versed, experienced, and dedicated academic academics continue to balance the qualitative and quantitative standards of the school franchise business and look forward to taking Podar Smarter School Careers to great heights. To empower this journey more, there are certain qualities that Podar Smarter School is looking for before announcing any school franchise in India.
Desire For Providing Quality Education
Good Educational Background And Sound Managerial Skills
Ethically And Financially Sound Partnership
Law Abided Land Recommendation
Zeal To Become Successful
The ultimate goal of Podar Smarter School is to become a major asset to organizations, corporations, and families with core values of professionalism, integrity, transparency, and team spirit. As the top school franchise, we believe in building collaborative relationships based on authenticity, so the Best Education Franchise Opportunity in India resonates amongst the masses. In short, Podar Smarter School aspires to create a global academic support for students, so they utilize the best of their capabilities even in a dynamic environment within their vivid personality.
The thought of making schooling years productive, joyous and enriching has lead Podar Smarter Schools to enable school franchise business opportunities for thousands of people who are willing to cater to the budding minds comprehensively. So, if you are determined to contribute to society through progressively thinking individuals, connect with us at Podar Smarter Schools Website now and become the one and only School Franchise in India!
Education Franchise Opportunities in India are concerned with the development of a child's character, content, and competency. It is, however, only achievable if all of the requirements of an inquiring mind are fulfilled through 360-degree exposure to the education system.
Podar Smarter Schools, one of the top education franchises in India has designed the Education Business Franchise Model with both indigenous and international practices in mind. This Education Franchise Opportunity in India encourages 'Why' and 'What' to give the finest learning environment possible, so students may put their knowledge into action and become global leaders. Education Franchise businesses in India have huge demand with exposure to digitalization. Join hands with Podar Higher Education Franchise with minimum investment to instil.
More Important Qualities of Education Franchise:
Creativity
Leadership
Problem-solving
Critical thinking
Communication
Cooperation
So that every child can confidently enter the fastest-growing globe.
Franchising has been expanding rapidly over the last few decades. The franchising industry is booming in India, particularly in the field of education. If you're interested in learning how to open a school franchise, read the following advice:
Prior to anything else, choose the sort of school you want to franchise. Would you like to go for a pre-school or a K12 school franchise?
After that, choose the greatest venture from your selection and arrange to meet with a representative of the franchising school to discuss the specifics.
Obtain the Board of Education's NOC and start the building when you have acquired the funding.
Next, get in contact with the franchise marketing department to implement marketing strategies that can help your institution become more well-known in the community.
Finally, employ qualified subject instructors as well as other staff members including the principal, the librarian, lab assistants, etc.
The Union Government of India manages the Central Body of Secondary Education (CBSE), a national-level board of education for both private and public institutions. In order to preserve consistency among all of its pupils throughout India and to create a unified educational system, the board supplies CBSE Curriculum to the schools. Most parents desire to educate their children in CBSE schools because of the curriculum's focus on students. The renowned franchise school in India, Podar Smarter School, provides the best CBSE franchise in the vicinity.
A quick look at the CBSE School Franchise
Senior secondary school from 1stto 12th class
100% ROI
CBSE board
Junior to senior level recruitment support
Full set-up of infrastructure
Online & offline marketing support
Safe and secure environment
Innovative and child-centric teaching methods
Since establishing a venture in the education industry never fails, it is sometimes referred to as a recession-free business opportunity. Podar Smarter Schools is one of the best ten high school franchises in India, and launching a CBSE school in your location doesn't require any prior expertise because it offers comprehensive training and helps with hiring of resources.
Let's begin by outlining the operation of franchise systems. There are two key stakeholders involved in opening a new franchise location:
Investors like you intrigued in establishing a franchise location include franchise owners (also known as franchisees).
Corporate brands (also known as franchisors) is a business that permits business owners to own and run one or more of the brand's sites
In franchising, a corporate brand teams up with a franchise owner to launch a venture under the label's wing. Using the franchisor's name, logo, goods, services, and other attributes, the franchisee owns and manages the assigned location.
In a word, yes! A school franchise in India provides you with a primed, tested system together with the essential regulations and guidelines that direct an investor to establish a high-quality school and eventually yield greater outcomes than autonomously established schools.
It is unavoidable that working with a well-known brand and acquiring expertise and knowledge are two of the main benefits of school franchises. Therefore, you should think about starting a School Franchise if you want to learn more about franchising and earn a higher income because it can be advantageous for you.
You can easily get a Podar Franchise through Podar Smarter Schools! A specially designed initiative by Podar Education Network that focuses on raising the quality of CBSE / ICSE schools across the Country.
We are very aware of the fact that the only way the Schools will be successful in the long run is by delivering Quality Education. Podar Smarter Schools is a revolutionary initiative with the potential of changing the shape of Education in India.
Podar Smarter Schools offers two options for you to choose from –
Podar Learn School was born out of the ideology of extending complete support to aspiring schools with an explicitly designed curriculum that focuses on increasing the quality of CBSE and ICSE Schools across the country. In this option, the team handhold the partners in all aspects of setting up and operating the school – From the construction phase to successfully running a full-fledged School.
2. Podar Curriculum Consultancy:
An initiative that will upgrade the academics of an aspiring or existing CBSE or ICSE school by providing the School with Podar Education Network's award Winning Lesson Plans, Curriculum, exams etc. The Partner Schools will benefits greatly be receiving Podar Education network's heavily researched curriculum and teacher training sessions are also organized.
The franchise Preschool future is bright. When discussing the preschool franchise, there are several obvious actions that may be taken.
Adhere to the franchisor's instructions. They will make sure that all of the rules and regulations are adhered to.
An essential component of managing a firm is having a strategy for revenue and operations. The trust of the parents registering their children in your school will be notable if you can strive to offer the greatest services.
The public's awareness of the preschool is crucial to the franchise's success. Make an effort to ensure that you use both online and offline marketing strategies to connect with potential clients.
The franchised Preschool in India guarantees positive efficacy. Your success will be evident in every aspect if you have skilled marketing staff and strategies for dealing with customers deeply.
Today's parents understand the value of education and are prepared to go above and beyond to give their children the best start possible. A play school or pre-primary school franchise might be considered in this situation. Franchise play schools are more likely to attract parents' interest and confidence than play schools that operate outside of the franchise system. It is because the brand already has a huge foothold and because it is simple to identify a "preschool near me" when the brand is national in scope.
Yes, parents today really value a good curriculum that can give their children a good head start in their future.  The National Education Policy (NEP) 2020 promotes not only holistic development of children but also emphasises on how quality education should be available to all. In the past, education has proven itself to be the business that is recession proof. Thus, school franchises are very profitable.