---
Admin
"Technology will never replace great teacher. Technology in the hand of a great teacher is transformational." – George Couros
Today, technology has become an ingrained part of a child's daily lives. Kids today have an access to insurmountable amount of information and resources on the touch of a button.
In the past two years we have all come to face the fact that schools and educational institutions need to be future. And one of the most important steps in being a future forward school is the efficient use of Digital Classrooms.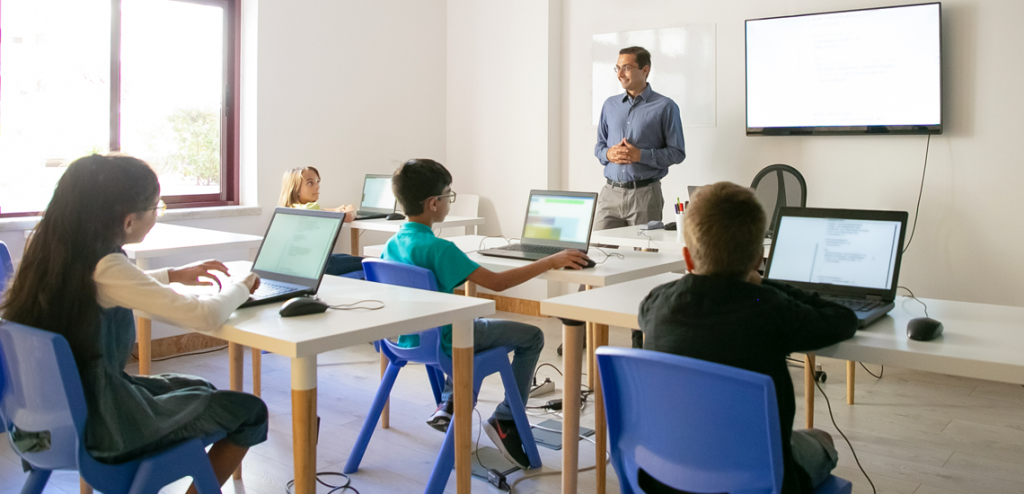 But what are Digital Classrooms?
EdCIL India defines Digital Classrooms as – Technology-enabled learning environment where Student learning and Interaction with the Teacher and Peers is fully supported through strategic use of Information and Communication Technology (ICT).
In a nutshell, a classroom that is completely based on teaching using technology is called a digital classroom. The students use technical devices or internet-connected devices such as mobiles, laptop, tablets, etc. for learning or for attending sessions.
Digital classrooms can enable great learning and instil in students great curiosity. It is an effective medium to impart education as it is interactive, available at all times and offers a variety of tools for teacher/ students to improvise their study sessions in class.
Digital classrooms are the present and the future of education. In the hands of a great teacher they can transform students into avid learners and star pupils! Let's see how exactly can digital classrooms truly be transformational?
In a Digital Classroom learning can be a lot more interactive and fun as there is visual learning involved. A study showsthat visual learning helps you to store information for a longer periods of time. It is said that videos and images are directly processed by long term memory. Visual learning increases retention by 29-42%.
Through presentations, visuals and videos a teacher has the tools to go in detailed explanation of a variety of topics, making it a personalised experience for the students as well.
There is no setup of a traditional classroom where a teacher has to set-up everything to demonstrate before going in to the class. In Digital Classrooms, all her resources are ready and it's a matter of using time to their advantage. As students can be more focused in digital classrooms, more topics can be covered in lesser time.
Through Digital Classrooms, your school or educational institute can make sure that the student has access to recorded sessions or the digital notes of the session 24X7 through a simple login. This can enable them to revisit study lessons in their own time, on their own pace – making it for a very inclusive and lucid learning environment.
Through Digital Classrooms and student management software, you can track a student's leaning process and their learning curve. This can help the teacher or the educator to understand their academic pain points. This information can help them personalise their teaching methods for a particular pupil, to help them in their academic journey and make it a seamless experience for them.
Therefore, we know that a Digital Classroom can enable a student in more ways than one and it can also facilitate resources to the teachers for their help and support making the school a more efficient and conducive environment for learning.
That being said, students will receive quality education when the curriculum of the school or an education institution is very well designed and curated. Through Podar Smarter Schools your school can opt for Podar Curriculum Consultancy. This is a sure-shot way to ensure that your school has the right course and the right guidance for your students to succeed.
Podar Curriculum Consultancy is especially designed and curated for pupils to receive complete and holistic education. It is designed for your child to succeed in academics and beyond.